Welcome to My Scifi & Fantasy Tell All!
Hi there! I'm Colby, and you've just stumbled upon my cove! Here's a little intro video welcoming you to my Sci-fi and Fantasy Tell All and telling you a teeny bit about myself and what this blog is all about!

About Me
PHEW! So FINALLY I'm updating this part of the site. Life can get so crazy, can't it?

So who is Colby R Rice? Well… for one, Colby R Rice is not my real name, and I love it. Lol! If you look hard enough, you'll be able to find out who I truly am, but I'll let you go on that treasure hunt in your own time! But what you should know up front is that I'm just a sci-fi / fantasy novel writing, publishing-press-having, motorcycle-loving, cookie-baking, PhD-getting bad ass! And I have afro puffs. And I like taro pudding.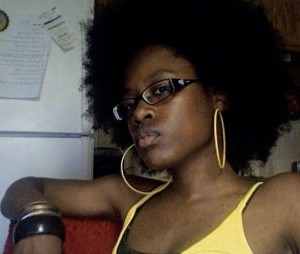 Mainly, I'm a science fiction and fantasy novelist, doctoral student, and kitchen ninja, hehe! In truth, I wear alotta caps 'round here. But my main steez is fiction writing, because I loooove it so. I also love to write short stories, screenplays, and graphic novels, and I have a deep interest in film making.
Currently, I am based in Madison, WI and am working on my very first science fiction and dark-fantasy novel series, "The Books of Ezekiel". The first installment of this series, "Ghosts of Koa", is almost done! The book is slated for a July/August 2012 release, and updates are forthcoming! I also own a publishing press, Rebel Ragdoll Press, where dolls set the trend in scifi & fantasy! We look forward to some exciting growth over the next few years!
About the Blog
This blog won't be just ALL about me, either. I've noticed that while there is TONS of info on indie publishing, self-publishing, book marketing, book production, etc for the publishing industry as a whole, There is very little niche-specific information on writing, publishing, and marketing for science fiction and fantasy novels & novel series SPECIFICALLY. So I'm here to give you the goods… all for free! All you have to do is hone in on this blog, and read to your heart's desire!
Stay tuned to my website for updates on the book and series, and for some pretty cool information on writing, publishing, and marketing tips specifically for the sci-fi and fantasy genre. Eventually I do plan to launch a science fiction and fantasy ezine that will bring together all of this awesome information too, so keep an eye on the horizon. The blog is in its baby shoes, but it'll be a big girl soon enough.

Promise!
Contact me, pwease!
I love to talk to readers, fellow writers, and well, everyone! I love to chat, so if you'd like to connect, please contact me at [email protected] OR by clicking anyone of these delightful heart buttons in the side bar!
Keep it indie, and see you soon,
<3 Colby