Here's the eighth stop on our Afrofuturistic journey, KAI LEAKES and both of her fantasy novels, SIN EATERS: DEVOTION BOOKS ONE & TWO! Check out the blurbs, excerpt, and cool pics below!
Sin Eaters, Devotion Book One
Khamun Cross was born to do one thing, and that was to watch Sanna Steele, a woman so unique and special he would risk his all to have her. So what, that in his job of watching her, he happens to prowl the streets, hunting the very things that go bump in the night. Even monsters or everyday looking people that steal humans' souls become Khamun's victims, and he brings with him a power, a vampirism, that would send one straight to the dark.
​
Khamun craves the darkness in his victims as if it were his own personal dinner, but not as much as he craves the very woman he has been ordained to watch over as her Guardian Angel. Sanna Steele is just your average twenty-seven year old, with your everyday hopes, dreams and insecurities. She is clueless about the war that is secretly raging around her in the streets of St. Louis. A war she will soon become a part of. But what is so special about Sanna that the very things that go bump in the night, seeks to snatch her from her very existence in life?
Excerpt from "Sin Eaters: Devotion Book One"
Today…
Metallic, sweet and mind intense flavor filled the air.   The quiet that floated around made the hairs on passerby's in the night to stand up as if the already chill filled wind wasn't enough to have them shivering. Rich, black ebon swallowed the alleyway keeping the individuals who occupied it secured and sequestered away from all who dared peek down the tight tunnel.   Water idly sliding down the asphalted street, mixed with oil and idle trash skating against the cracked surface, cushioned midnight colored Timberland's as the flash of twinkling light cascaded in a flash like a pulse near the booted body.
Inhaling even shallow breaths, the individual listened as all sound seemed to be absorbed away as if in a tornado.   This silence triggered the timed attack, which had the anticipation in the individual's body expand with power,
velocity, speed and well checked strength.
If one was to be one of the many idle flies which hovered in the nearby dumpster, they would be amazed at the sight of the super human individual running in an almost flying position and landing on the second hulking form in the alley.
The rise of a scent that had cats meowing and arched in defense on the railings of a window and under a parked car filled the air again as the crisp white flash of light slashed in the night air, landing against the second balked individual as the attacker hissed.
In a fraction of a blink, claws the size of an oversized lion slashed in the air as tentacles dipped out near the blind spot of the attacker, making the being jump in the air. Bringing down a flashing light of metal unto the second balked former human looking being but now entity of horrendous looks, the precise slash against the entities flesh caused the now familiar smell to fill the air once more.
The attacker crouched low in a resting battle position, taking in shallow calm breaths as the thing turn to attack again, running full speed.   Its Italian leather wing tipped shoes creating a rhythm of tapping song on the alleyway floor, causing the attacker to hum, throwing the entity off its thoughts.
A light sheen of perspiration kissed the attacker's forehead with each calm inhale.   The attacker lived for this, loved it and desired the hunt of creatures such as this.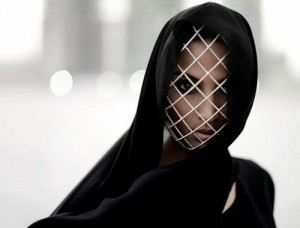 Strategizing the next move, the attacker thought back to how this prey was hunted.   A quiet smile flashed across the attackers lips.   It wasn't hard to get to the sick bastard, the attacker posed as the entities preferred targets, an angry teenager, who wanted nothing but to get away from their parent.   It made the attacker clutch the blade that nestled comfortably against his palm, in anger at the obscene and pornographic discussions that would occur with the demon.
It made it even easier to identify that this monster wasn't the shrewd Italian entrepreneur he portrayed to be, but was in fact a succubae level soul polluter demon.   These breed of evil were the most degenerate of demons, they enjoyed feasting off the pain of the victims through lewd sexual means, physical decapitating torture and flesh eating.
Knowing this, it silently pleased the attacker to stalk and mentally threaten the demon's territory by baiting it, since these demons were known for their territorial nature.
Allowing the demon to believe they were to meet up outside of a popular artist's concert, the attacker led the demon to the alleyway through simple mind manipulation and the rest is history.   Shuddering with a lethal dose of pleasure and battle tactics, the attacker's body tightened with the wait as the breeze in the alley lightly brushed against skin.
Side stepping within the low crouch, the attacker pivoted and flipped forward with the lithe agility of a panther
producing a silver gun.   Suddenly as if time stopped, bullets exploded in the air as the glimmering and glowing objects penetrated the thrown back body of the beast, causing it to howl in pain.
The attacker ran full speed, watching the bullets hit each expertly calculated point on the beast's body. Landing a blow to the entities ribcage; the muscles in the attacker's bicep tightening with the impact of breaking bones and tearing flesh.
Seething in anger, contempt, disbelief and hate, the monster attempted to slash at the attacker with its claws, its teeth dripping with a mixture of its own blood and a liquid miasma.   The beast successfully slammed the attacker into the side of a building, breaking bricks and creating a crater in the wall, rushing like a bull to launch another attack of teeth and claws.   Pivoting out of the way with a deep guttural grunt, the attacker let another round of bullets to release and absorb into the slashing and bleeding beast, watching him fall.
High pitched human screams burst from the beast as it lay on the cold glistening wet pavement, its twisted and contorted body writhing as the attacker casually walked over it kneeling down and grabbing it by its neck.
Watching slowly as the entity howled, hissing and fighting back, its eyes begged to be left alone as its tentacles and claws melted away into a very human hand.   As the once beastly thing revealed itself during its cries, a disheveled looking handsome muscular man, dressed in an Italian designed straight from the runway suit, coughed up spewing blood and wheezed in agony.   The clawing man, murmured in unintelligible sentences, his sun kissed olive skin, slowly fading into a murky grey.
Wrinkles of decay and diseases, emitting from his once handsome frame, seemed to slosh away with every scream of pain and anger.   Flowing oak colored hair, drifted away as if it was dust in the wind. The man reached out attempting to tear at the attacker's throat as flashes of the demon's past life of darkness flowed into his vision through the eyes and briefly flashed smile of the attacker's photogenic face.
Hunching over in a swift movement that would rival and shame a snake, if a snake could be shamed, the attacker hissed, claw palmed the man in the chest clutching at his engorged heart to pull it to its surface, beating against rapidly thinning skin, as the man screamed in garbled terror.
"Ashes to ashes…", was whispered in the air as the attacker pulled the heart from the man's cavity and ferociously bit into the side of the screaming man's neck tearing and cavernously biting until the attacker's mouth seemed to fuse with the writhing man's jugular, as rivers of blood fluidly glided everywhere.
Sin Eaters: Retribution, Devotion Book Two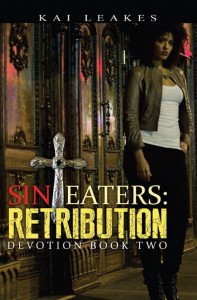 Darkness is swallowing the streets of Chicago, and a key may have been found. Khamun and Sanna's epic journey together has led them to this, their mission to save Nephilim Society from themselves. Still trying to open the secrets of the first book, Khamun and Sanna's fight has resulted in a travesty that may change their lives. Now with Khamun at the cusp of a life and death decision, it's up to his team to close ranks and protect their Oracle.
Calvin Freeman is surrounded by death. Not only has his cousin fallen in battle, but he's now being stalked by ghosts from his past lives and a familiar lethal foe, The Medusa. What is deathly has become alluring, and what is toxic has become bittersweet. His dreams are betraying him, and war is coming as society turns a blind eye. It's up to him and his family to bring their retribution, and it's up to him to find out why the woman known for bringing nightmares has suddenly knocked at his door.
Take a final walk in the chilling world of Kai Leakes in Sin Eaters 2: Retribution Devotion Book Two.
Excerpt from "Sin Eaters: Retribution, Devotion Book Two"
PRELUDE
The past . . .
"Where are you going to go, boy? You're surrounded!"
Like hell, woulda ever let ya take me down, boss, rushed into his mind as he ran. More like sprinted through the thick, grasping trees that surrounded him. Rigged branches reached out to him as if they had a mind of their own. Their thick almost-black rooted stems twisted in their uprooting from the bowels of the earth to make him trip, but he was smarter than the trees. He leaped and veered out of their menacing way and his arms jolted outward to part through bushes.
With all of the trees that surrounded him, he would not have believed that he was back in Harlem, had he known any better; but for those who don't know it by that name, New York was where he was. The bustling city lights covered the sky like fireflies splashed across the sky's black canvas. The noisy zipping of various buckets and hacks driving carelessly pass tourists and city folk gave him a sense of how close he exactly was to civilization. It also gave him a sense of purpose.
Twigs snapped suddenly and the rustling of leaves tussling against each other let him know they were still hot on his trail. His mind was racing as he looked for an out. All of this was too familiar to him. Beady red eyes flickered at him in the darkness of the wilderness—no, of the park. He was in Central Park. He should have realized that. Those piercing eyes stared at him in delight, ready to seize the opportunity to hogtie him so that he could be their little plaything but he would not give them that satisfaction. Not yet.
Beads of midnight dew kissed his face the moment he stepped through the thicket. His wingtip shoes abruptly skidded as they made contact with wet, slick grass. He jumped. Then he lifted in the air, almost floating for a mere second. Both of his large feet clacked against pebbled stone the moment they met the ground.
He could hear the enemy. He could feel them breathing against the back of his neck. Each hair on his body stood in salute, coming alive in electric awareness. In this life at least, he knew he could die on his terms and die giving them a fight. In seven minutes, his time would be up soon anyway, so what could he really do about not being bumped off?
Seven . . .
A whizzing sound sizzled past his ear and he felt the hot trickle of blood mixing with his sweat and the quick pop of the gun after the fact. They wanted to play dirty. They wanted to make him appear to be a patsy and a hood. He had to laugh; he was better than a hood. Sure, at one time, he had to fill that slot but now he was his own man, a bruno to a well-known trouble boy who protected the meek of Harlem. They worked together with his gang to find those who were kidnapped or were bumping gums to the wrong people. They worked to regain money lost in predatory loans and schemes and wrongful repositions. They worked to build up their people and to protect all who walked the streets of Harlem from the highbinders that made it their mission to tear down the community. But these men who were after him, the very scum and thugs themselves, were no normal men.
Corrupted monsters in the flesh of coppers more like it. Oh, what he wouldn't give to go out between the gams of a looker for a change.
Six . . .
The menacing snarl of dogs in the distance made him grimly chuckle before closing his eyes with the feel of his body vibrating with his gift. His gift allowed him to use the sound waves around him to channel it into music. With a slight part of his lips, he let out a low hum. Whistling he changed the pitched and dropped into a low crouch. Both hands extended outward and he observed his skin lighting up in swirling patterns against its burnished surface. That was his clue to project that vibrating power out in waves toward the hunting dogs. A change in his vision instantly allowed him to see through their glittering eyes. He then knew where to run next. With a quick shift of the pitch of his song, he caused the dogs to halt their barks, whimper, and then stopped in their tracks to turn. Attack, was his simple mental command and he watched the dogs attack their owners before sprinting away in retreat.
His sweat dripped down his face like rain on the ground before him. His ragged breath came out in sharp bursts and he pushed up to start his run again. They wouldn't get what he had been given a vision to find. That he was sure he had hidden well; he had taken something priceless, something rare, and something they wanted destroyed but couldn't. Something they had to hide from his people because he had learned it could kill the leader of their kind.
Five . . .
(Find out what the countdown is about when Sin Eaters 2: Retribution drops June 24

th

2014!)
BUY & PRE-ORDER The Sin Eaters Saga TODAY!
BUY Sin Eaters: Devotion Book One at:
PRE-ORDER Sin Eaters: Retribution, Devotion Book Two at: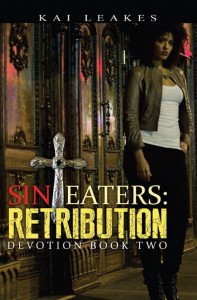 About Kai Leakes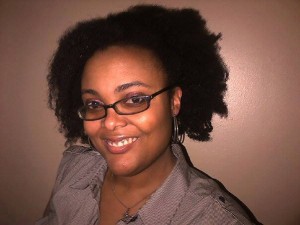 From Iowa, but later relocating to Alton, IL and St. Louis, MO, Kai Leakes was a multifaceted Midwestern child, who gained an addiction to books at an early age. Sharing stories with her cousins as a teen, writing books didn't seem like something she would pursue until one day in college. Storytelling continues to be a major part of her very DNA, with the goal of sharing tales that entertain and add color to a gray literary world.
In her spare time, she likes to cook, dabble in photography, and assists with an internet/social networking group online. Loving to feed her book addiction, romance, fantasy and fiction novels are her world. Reading those particular genres help guide her as she finds the time to write and study for school.
Kai is the author of Sineaters: Devotion book one and the soon-to-be-released Sin Eaters: Retribution: Devotion book two, coming in June.
"The Light Will Always Prevail, but when the Light and Dark are at war, sometimes the Grey can only be your salvation."  ~ Kai Leakes
CONNECT WITH KAI AT:
Her WEBSITE
Her FACEBOOK Author Page!
Her TWITTER (Also join her at #Teamsineaters !)
Her TUMBLR