Did you know that only 38% of Americans actually have a passport? Peh! Talk about being the greatest country in the world… come on, folks! We really need to step our travel game up! If you don't have much money to travel, don't worry! Post #17 "Pinching Pennies for Travel" will help you to start saving up enough money to go on an amazing trip no matter where you plan on traveling!
But before you can do any of that, getting the right travel documents is probably the most important part of preparing for a trip. Make sure you do this AS SOON AS POSSIBLE! What follows is a comprehensive list and some major helpful tips on how to get the right docs you need. Getting travel docs and necessities might take a while so start asap, especially for the most important one, the passport.
1. Your Passport
No matter what country you come from, without your passport, you won't be able to step foot on any soil outside of your home nation. So, for you 62% of Americans out there who don't have their passports, this is what you need to do BEFORE you go to the post office. If you are not a U.S. citizen, you should follow the procedures necessary to get a passport from your beautiful home country (which I hope to visit some day!). Ok so here we go!
Get your passport photos taken. Any local hole-in-the-wall photography place or your local university will have an office that takes passport photos, specifically for this purpose. They should charge you around $10.00 for this service and your photos come out immediately.
Make sure you have a Present Identification! Nine times out of ten, you will be required to apply IN PERSON for your passport! One of the following will suffice for the application: a former U.S. passport (if you're renewing it), a non-Driver's ID or a Driver's License that is NOT EXPIRED, a naturalization certificate, a military ID, or a government ID.
Make photocopies (front and back) of your U.S. Citizenship and Present Identifications that you are submitting. Use plain white 8.5×11 paper for the photocopies.
Have the passport fee ready! Write a check or get a money order for the cost of a passport. The current fee for a new or renewed passport is $135.00. If you're doing this late and need your passport expedited, you'll be required to pay a $60.00 expedited fee.
Go to your local post office. This is the best place to go to apply for your passport. If you're a first-time applicant over the age of 16, you MUST apply for your passport in person.
Once you have gone through this process and sent your documents off, you'll get your passport back between 4-6 weeks later. It takes a while, so make sure you do this as early as you can!
2. Your Travel Visa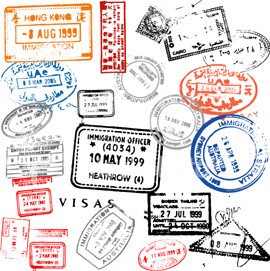 There are nearly 100 countries in the world that do not require travel visas if you're an American. However, for those places that do, there is a general process that you have to go through that includes going to your local consulate for the country you're applying to, filling out an application form, and/or writing a letter of interest.
The visa process really depends on two things: 1. your citizenship, and 2. the country or countries you're trying to visit. It's such an individualized process that listing it here would be too time consuming and chunky! So go to the State Department's Bureau of Consulate Affairs for more info!
3. Eurail Pass (If you're traveling in Europe!)
So you're going to have to excuse the Europe bias. It's the only continent (aside from North America), that I've been to thus far, but I do plan to change that as I take my yearly backpacking trips (which will hopefully be at least twice a year 🙂 ). The "travel-writer" series on my blog will always reflect the places to which I will be traveling so please stay tuned! (I really can't wait to get to Mexico, South America, Africa, Asia, and even Antarctica! And more, obviously, but the world is so big. 😉 )
Anyways, onward! The Eurail Pass!
To be honest, I'm torn on the Eurail Pass. It can be extremely convenient in some ways and extremely ridiculous in others. But to start, because of the European Union uniting, a lot of travel perks came along with that, including the advent of the Eurail pass. The pass allows you one MONSTER ticket (that you pay for prior to traveling there), that will allow you to travel by train in 23 countries. For first time travelers, just to make things a little easier, I think you SHOULD get a Eurail pass, but for those of you who might be going back to Europe for a second or third time, you might have already figured out that the Eurail pass might not suit your needs. Now as I said, there are some fantastic pros and unfortunate cons associated with the pass, and I have listed them below!
Important Note: If your traveling within the U.K. or Switzerland, these two places both use different kinds of passes. The U.K. uses the BritRail Pass and Switzerland uses the SwissRail Pass.
PROS OF THE EURAIL PASS
PEOPLE UNDER 25 GET CRAZY DISCOUNTS!! Enough said. If you're under 25 years old and you're reading this, GET YOUR EURAIL PASS NOW!
Group savings are available for groups of 2-5 people.
Flexibility and no need to "pre-plan" your destination. GREAT for you spontaneous folks (like me) who go where they want on a whim! You can literally decide to go from Spain to Belgium one day and so long as you're traveling to your destination the same day, you won't have to buy multiple point-to-point tickets. You can just get on a train and go (assuming that you pay the reservation fee, of course, which is a con). Buying a point-to-point ticket will require more planning to save money and not get screwed.
CONS OF THE EURAIL PASS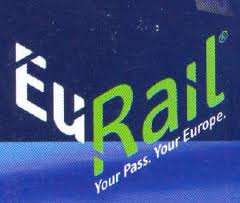 For many countries with high-speed and overnight trains, you have to pay a reservation fee (from $5.00 – $28.00). What the crap. I was pretty pissed to know that these fees weren't already included in the $800 I had already paid for my global pass. Sometimes, the reservations were hella expensive, causing me to believe I was paying for a whole other train ticket! I paid so many fees, and this is the biggest reason why I might not to do the Eurail Pass this time around. (Might, we'll see!)
Passes don't cover subways, buses, and any local within-city transportation. I expected that, but for those of you who might be hoping that your Eurail pass also covers the metro in Paris, it doesn't. You'll have to add the local transportation.
If you're over 26, you're paying full price. Boo!
Learning how to use the pass. Oh LORD, this was annoying, lol! First, you have to validate the damned thing on the first day you want to use it. Be careful when you validate it, though! If you aren't traveling that day or you can get a cheapy ticket to get from one place to the next without validating, then DON'T validate! Otherwise you're wasting a day. That's another thing: these passes work by NUMBER OF DAYS YOU TRAVEL, NOT NUMBER OF TRAIN RIDES YOU TAKE! Don't waste your travel days for places that are cheap to get to. Use your Eurail pass for overnight long train trips, or for those train rides that carry a hefty price. Get the most bang for your buck!
This post is getting long, so I'll cut it off here and we'll continue the discussion on travel docs in next week's fashionable backpacker post! 😉
In the meantime, keep it indie,
<3 Colby