5 out of 5 Stars: HIGHLY RECOMMENDED!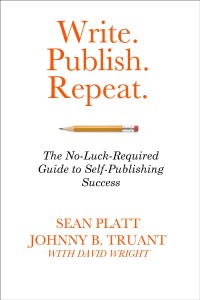 Excuse my massive potbelly and picking of teeth, because I DEVOURED this book and enjoyed every minute of it.
::BURP::
Okay, let's get back to the review, lol! This book was awesome. Found out about it through Joanna Penn's The Creative Penn website and snatched it up to absorb Platt and Truant's wisdoms on making it as an indie publisher. Being a sci-fi, fantasy, and thriller novelist (and indie publisher) myself (and having just published my first novel), I needed to figure out a viable game plan to take my creative journey to the next level. Well, boys and girls, this book has it for sure. "Write, Publish, Repeat" gives us the down and dirty nuts and bolts info any indie would need to be successful: from reviews to building a fan base to writing quality work to "building funnels", you'll get a full education. Pick this one up along with Joanna Penn's "How to Market a Book", which is also mega kick-ass.
Thanks so much, guys! I feel so much more empowered learning from the pros!
Check out Write, Publish, Repeat at the following sellers: Amazon, Kobo, Barnes and Noble
So, go my faithful repeaters, and get this book to add some firepower to your bad-ass indie movement! And also, if you've read this, what do you think of it? Did Sean and Johnny kick ass or did they totally flop with this one? Your thoughts, your space, so share it all below! And of course, in the meantime…
Keep it indie,
<3 Colby