Here's the third stop on our Afrofuturistic journey, MILTON DAVIS and his YA fantasy novel, AMBER AND THE HIDDEN CITY! Check out the blurb and an excerpt below!
Amber and the Hidden City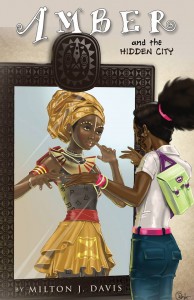 Thirteen year old Amber Robinson's life is full of changes. Her parents are sending her to a private school away from her friends, and high school looms before her. But little does she know that her biggest change awaits in a mysterious city hidden from the world for a thousand years. Why? Amber's grandmother is a princess from this magical kingdom of Marai. She's been summoned home to use her special abilities to select the new king but she no longer has the gift, and her daughter was never trained for the task. That leaves only one person with the ability to save the city: Amber!
But there are those who are determined that Amber never reaches Marai and they will do anything to stop her. Prepare yourself for an exciting adventure that spans from the Atlanta suburbs to the grasslands of Mali. It's a story of a girl who discovers her hidden abilities and heritage in a way that surprises and entertains.
Excerpt from "Amber and the Hidden City"
Aisha kicked the garbage can across the alley and screamed. She struck out with her fists, imagining Bissau's face as the target for her frustration. A sound distracted her; she turned to see a group of people staring at her. She grinned maliciously then before the eyes of her unwanted spectators she transformed into a huge grey hyena. Her maniacal laugh sent them all scurrying away; Aisha transformed back to her true self before exiting the other end of the alley.
She underestimated Amber. Whatever powers she possessed manifested the moment they landed in the motherland. She had been overconfident when she knew better and now the girl and her mother were lost in Dakar. A quick sweep of the local hotels revealed they were not checked in. They were clever; they knew it would be the first place she searched. They weren't familiar with the city, so they wouldn't take a chance in seeking a stranger for help. Aisha was dumbfounded. Where would a person begin to look for another in this world? She would have to start with her own knowledge then go from there. In Marai each folk claimed its own section of the city. She would look for the American section of the city, if one existed. That would be where they would most likely go if they didn't choose a hotel. Aisha spotted a man dressed in a large purple shirt and loose pants striding down the street towards her. There was a smile on his face; Amber smiled backed then approached him.
"Excuse me sir," she said in her sweetest tone. "Where would I find the American compound?"
The man looked puzzled. "American compound? There is no…oh, you must mean the American Embassy."
"Yes, that is what I mean."
The man scratched his chin. "It's a long way from here. Come, I'm walking to my car. I'll take you there."
"Merci, sir! Merci!"
Aisha followed the man to a dusty vehicle. She was used to automobiles now, so she climbed into the passenger side. They pulled away quickly.
"What's your name?" the man asked.
"Aisha."
"Well, Aisha, your Momma should have taught you never to get in a car with a stranger."
The man's sinister grin was barely on his face when Aisha snatched her wicked dagger  from her clothes and pressed the tip into his neck. It was her turn to grin.
"No, sir. You should be old enough to know not to try to take advantage of pretty young girls. Now take me to this American embassy."
The man's fearful eyes drifted down to the blade. "You won't do it. I'm driving!"
Aisha pressed the knife into his neck just enough to draw blood. The man whimpered.
"The embassy, fool!" she spat.
The man drove to a building that flew a red, white and blue flag decorated with stars. Aisha leaned closed to her reluctant chauffeur then kissed him on the cheek.
"Thank you for the ride," she whispered.
She nicked his neck with her knife as she exited the car. The man yelled at her and shook his fist. Aisha had already forgotten him.
The military man at the door greeted her with a smile before looking over her shoulder at the irate man.
"Is there a problem, ma'am?" he asked.
"No sir, but you are very kind to ask."
Aisha glanced over her shoulder as her involuntary ride sped away.
"I hope you can help me, monsieur," she said. "My friends from America came to visit me today but it seems I lost them at the airport. I think they would come to the embassy if they were lost."
The guard looked at her skeptically. "There were two Americans that came to the embassy earlier today. You say they are your friends?"
"Yes, monsieur."
"Yet you miss them at the airport and then come here seeking them?"
"I must make a confession," she said. "My friends would not know me if they saw me. I was to meet them at the airport to assist them in their travels. They apparently grew impatient."
"They've made other arrangements," the guard said gruffly. "Have a nice day, ma'am."
"Please, monsier, I must find them," Aisha pleaded.
The guard studied her a few moments before answering.
"You can talk with the receptionist," he said.
"Merci, monsieur. Merci."
Aisha went to the receptionist. The woman confirmed that Amber and Alake had indeed come to the embassy, but she wasn't at liberty to say where they were staying.
Aisha thanked her then left  the embassy. So the duo had taken refuge in a local home. It would seem to be a good move, but there were few homes in Dakar that could provide two lodgers the comfort of a hotel. Her search would not be as difficult as Amber had surmised. She had no doubt she would see them very soon. She found another alley, ran then leaped into the air, her arms spread wide. She transformed into a falcon, a cry of joy escaping her mouth. Of all the creatures she could be, the birds of prey were her favorite. Their powerful bodies' combines with their keen sight and ultimate mobility fascinated her. If there was any creature she could remain for the rest of her life, it would be such a beast.
She beat her wings, climbing higher over Dakar. It did not take her long to find the city section she sought. A line of mansions rimmed the ocean side, houses resembling the lineage of Marai. She circled, seeking obvious sign of where Amber and the others would be but there was none. They were smarter than that, but still even the most intelligent person can make mistakes, as Bissau proved in Paris. She descended and found a perch on a nearby office building. The midday heat did not bother her; she was a child of the desert and the falcon she chose to be was well adapted to the high heat. Now was time for patience. She felt sure she was in the right place. She would soon have what she wanted.
It was dusk when she saw it. A mystical flash rose from a sector of town south of her. She jumped from her perch, flying as fast as she could to the source before it waned. Someone used nganga nearby and she was sure she knew who. Despite her speed by the time she reached the source of the flash it had dissipated. Two homes filled her view, both splendid compared to the other homes in Dakar. There was only one way she could find which house was which. She transformed into her human female form, this time wearing the clothes of a local. She waited until darkness settled on the city before walking to the door of the first home. She knocked for a long while before giving up and proceeding to the next house. Aisha knocked then took on a sad expression. The door swung wide and was filled by a large man with a disapproving face.
"What do you want?" he barked.
"Something to eat," she replied.
"No beggars here," he said. "Now go before I call the police."
"Just a little something," she persisted.
The man grabbed her shirt. "Didn't you hear me? Be gone. You'll disturb Miss Josephine and her guests!"
Aisha's eyes narrowed and she smiled. "Of course I will."
Aisha's foot sank into the man's stomach. He dropped her and she landed on her feet. She stepped over the groaning man into the house.
"Bundu, who is it at such a late hour?"
Aisha saw a light appear on her left. Another light appeared on her right. She looked right and a saw a woman she did not recognize walking toward her as she tied her house robe belt.
"Who are you, child?" The woman demanded. "What is the meaning of…Bundu!"
The second door opened. A woman stepped out, a woman whose face was very familiar. The woman saw Aisha and her hands flew to her mouth.
A third door flew open at the top of the stairs. Bissau rushed out, his face twisted in anger. He jumped from the top of the stairs. Aisha grinned.
She waited until Bissau was almost on the floor when she transformed back into the falcon and flew by him to the room. When she transformed she stood before Amber.
"You're journey is over," Aisha announced.
Amber stumbled back. The necklace about her neck glowed with a strange light.
"That necklace will be mine once I'm done with you!"
She struck at Amber's neck and was shocked when the girl blocked her blow. Her foot flashed out and Amber blocked it as well. She almost laughed when Amber punched at her face until she realized the punch was a feint. She barely avoided the swinging elbow meant for her jaw.
"You have some wrestling skills," Aisha said. "Your Grandma taught you well."
Aisha glanced behind her; Bissau and Aisha's grandmother were running up the stairs.
"Time to end this!"
Aisha reached for her pouch. Amber kicked her elbow and her arm fell limp.
"Damn you, girl. I'll…"
Bright light filled her vision as Amber's elbow crashed against her head then everything went dark. When she opened her eyes the back of her head throbbed and Bissau, Amber and her grandmother were entering the mirror inside the room.
"No you don't!" Aisha yelled.
She jumped at the mirror. Bissau reemerged and slammed into her, knocking her to the floor. She tried to stand but Bissau pulled her back down.
"We have unfinished business, shape shifter!" he snarled.
"Then it will remain unfinished!" Aisha reached for her pouch again. Bissau dodged her and ran toward the mirror. Aisha smiled; as soon as he opened his portal she would follow him. He did no such thing. Instead he picked up a nearby chair and smashed the mirror. Aisha screamed then fell onto Bissau, pummeling him with hands, feet, elbows and knees.
"Up the stairs!" she heard a female voice yell. "They're up the stairs!"
Aisha halted her assault on Bissau. He lay unconscious at her feet, his beautiful face beginning to swell. She ran to the edge of the stairs and saw four uniformed men climbing up to her followed by the woman and her butler. She hissed in anger; she was back to where she started. But at least this time she had a lead. She hurried over to Bissau, grasping his arms with her hands. What she was about to do would weaken her, but she needed him, at least until she could locate Amber and her grandmother again. The transformation took longer than normal; once she was done she was a falcon again and Bissau was a mouse in her talons. She flew upward as the uniformed men reached the top of the stairs then glided out of the door into the humid night.
Buy "Amber and the Hidden City" TODAY!
In Paperback at MV MEDIA, OR at

About Milton Davis
Milton Davis is owner of MVmedia, LLC , a micro publishing company specializing in Science Fiction, Fantasy and Sword and Soul. MVmedia's mission is to provide speculative fiction books that represent people of color in a positive manner. Milton is the author of eight novels; his most recent The Woman of the Woods and Amber and the Hidden City. He is co-editor of four anthologies; Griots: A Sword and Soul Anthology and Griot: Sisters of the Spear, with Charles R. Saunders; The Ki Khanga Anthology with Balogun Ojetade and the Steamfunk! Anthology, also with Balogun Ojetade.  MVmedia has also published Once Upon A Time in Afrika by Balogun Ojetade.
Milton resides in Metro Atlanta with his wife Vickie and his children Brandon and Alana.
CONNECT WITH MILTON AT:
His WEBSITE