And closing out April as well as the last day of the Butler-Banks Black Sci-fi Book & Blog tour is another visit with BALOGUN OJETADE and his upcoming novel, FIST OF AFRICA! Check out the blurb, an excerpt, and a word from the author below!
Fist of Afrika
Nigeria 2004 … Nicholas 'New Breed' Steed, a tough teen from the mean streets of Chicago, is sent to his mother's homeland – a tiny village in Nigeria – to avoid trouble with the law. Unknown to Nick, the tiny village is actually a compound where some of the best fighters in the world are trained.   Nick is teased, bullied and subjected to torturous training in a culture so very different from the world where he grew up.
Atlanta 2014 … After a decade of training in Nigeria, a tragedy brings Nick back to America. Believing the disaffected youth in his home town sorely need the same self-discipline and strength of character training in the African martial arts gave him, Nick opens an Academy. While the kids are disinterested in the fighting style of the cultural heritage Nick offers, they are enamored with mixed martial arts. Nick decides to enter the world of mixed martial arts to make the world aware of the effectiveness and efficiency of the martial arts of Africa.
Pursuing a professional career in MMA, Nick moves to Atlanta, Georgia, where he runs into his old nemesis – Rico Stokes, the organized crime boss who once employed Nick's father, wants Nick to replace his father in the Stokes' protection racket. Will New Breed Steed claim the Light Heavyweight title … Or will the streets of Atlanta claim him?
I really enjoyed writing this book because I have always wanted to share with the world the fierceness, efficiency and effectiveness of the indigenous African martial arts for self-defense, as well as their transformative powers in the building of men and women with self-discipline, courage and good character.  Fist of Africa  is a perfect outlet for my unique brand of Fight Fiction, which I am sure you will enjoy reading as much as I enjoyed writing it.
In Fist of Africa, readers will experience jaw-dropping action on the mean streets of Chicago, in the sand pits of Nigeria and in cages in the "Dirty South" (Atlanta), as well as a bit of romance.
Excerpt from "Fist of Afrika"
ROUND SIX
Vee-Vee's was packed. The line of men and women spilled out of the Nigerian restaurant and onto the hot sidewalk as the lunch crowd eagerly awaited the mouth-watering, sweet fried plantains, egusi soup with pounded yam and coconut rice.
Standing in the line, Nick and Baba Yemi still had two customers ahead of them before they were in the door. Nick rubbed his hands in excitement.
Baba Yemi raised an eyebrow. "Is the food really that good, Nicholas? You look … eager."
"You just don't know, grandfather," Nick replied. "I haven't had Vee-Vee's in over ten years.
"You've had Nigerian food in Nigeria," Baba Yemi said. "What's so special about Vee-Vee's?"
"It's Vee-Vee's," Nick responded with a shrug.
Baba Yemi shook his head.
"Excuse me, you just jumped ahead of me," a woman's voice said.
Nick peered over his shoulder. A rotund woman addressed three young men who stood in front of her in the line.
"Look, lady, we just want to get some plantains up out of here," one of the young men – a lanky teen with jeans hanging halfway off his butt – said. "You look like you're about to order the whole damned menu."
The young men laughed heartily and exchanged high fives.
"Teens today have no respect," the woman said. "If you are the future, we're in big trouble."
"Shut up, pendeja!" Another young man spat. "That's moron, in case you don't know … pendeja!"
More laughter from the young men.
"Hold my place in the queue," Baba Yemi whispered.
"Grandfather, don't …" Nick muttered.
Baba Yemi approached the young men, stopping a few inches behind them. "You are being very rude. This young woman deserves an apology."
The teens turned to face Baba Yemi. The largest of the trio, a tall, athletically built young man, who had not yet spoken, looked Baba Yemi up and down.
"Push on, old man, before you get yourself hurt," he said.
Baba Yemi smiled and tapped the young man on his muscular chest. "Hurt? How?"
The lanky young man with the sagging pants placed a firm hand on Baba Yemi's shoulder. "Get gone, old dude, before we kick your …"
The young man hit the pavement with a dull thump.
"My hand!" He screamed, clutching at his wrist and writhing in agony.
The Spanish-speaking young man launched an awkward-looking kick toward Baba Yemi's belly.
The old wrestler side-stepped to his left, bringing his right arm up to scoop the young man's leg. Baba Yemi shifted toward the trapped leg, grabbing it with both arms in a tight grip. He ducked under the leg, lifting his arms over his head at the same time.
The young man's knee twisted at a sickening angle. He landed next to his friend with the dislocated wrist, who joined him in a chorus of cries, whimpers and yelps.
Baba Yemi exploded toward the remaining member of the trio.
The young man stumbled backward, then whirled on his heels and sprinted off.
The teen with the sagging pants and damaged wrist helped the young man with the dislocated knee to his feet. "Sorry, ma'am," they said in unison.
Baba Yemi laid a hand on the shoulder of the young man with the sagging pants. The young man jerked in fear.
"Relax," Baba Yemi said. "Let me fix it."
The young man cautiously gave Baba Yemi his damaged hand. The old man grabbed the teen's fingers and yanked hard. The teen winced at the pain of his wrist sliding back into its correct position.
"Thank you," the young man said. "And I … I'm sorry."
"What about my knee, sir?" The Spanish-speaking young man inquired, still gasping in pain.
"That is going to require more treatment than I can do here," Baba Yemi answered. "Do either of you have a car?"
"Yes, sir, I do," the Spanish-speaking youth said.
"What's your name, boy?" Baba Yemi asked.
"Hector, sir," the young man said.
"And yours?" Baba Yemi asked the young man with the sagging trousers.
"Miles," he answered.
"Miles, take Hector to the hospital," Baba Yemi said. "They'll put the joint back in proper position, then you bring him to me and I'll really heal him. Talk to my grandson over there. He'll give you the address."
"Yes, sir," Miles said, approaching Nick.
"Thank you, sir," Hector said.
Vee-Vee's waitress, who had come outside to see what the commotion was all about, handed Nick an ink pen and an order slip. Nick wrote the address to his parent's house on the slip.
The two young men shambled off, Hector's arm wrapped around Miles' shoulder for support.
"Thank you!" The pudgy woman shouted. She wrapped her arms around Baba Yemi's torso and held him in a warm hug.
The people in line applauded as Baba Yemi returned to his place in line.
"We're running a compound for young thugs out of my parents' house now?" Nick said, shaking his head.
"You weren't so different when you first came to me, Nicholas," Baba Yemi said.
"True," Nick said.
"So, I ask again," Baba Yemi said. "What now?"
A Word from the Author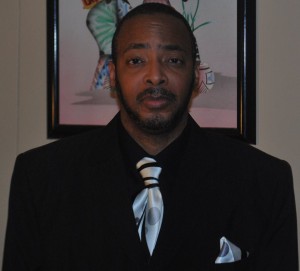 For those who know me, I am a writer.
For those who don't know me, I am a writer.
I write speculative fiction – mainly Steamfunk, Dieselfunk, Rococoa and Sword & Soul.
Recently, I have expanded my writing into the Fight Fiction – aka Action / Adventure, aka Pulp – genre, which was pretty much inevitable because my novels contain lots of exciting action and fight scenes.
What, exactly, is Fight Fiction. You ask?
Fight Fiction is comprised of tales in which the fighting – whether it happens in a temple in Thailand, a boxing ring in Las Vegas, a cage in Atlanta, or in a bar in New York City – is not merely in the story to make it more exciting; or to add a different spin to it. The fighting must be an integral part of both the story and its resolution. Take the fighting out and you no longer have a story. Think Fight Club; Rocky; Blood and Bone; Kung-Fu Hustle; Million Dollar Baby; and Tai Chi Zero.
Writing fight scenes has always been something I enjoy and that I believe I do fairly well. This is probably due to the fact that I have been a student of indigenous African martial arts for over forty years and I have been an instructor of those same martial arts for nearly thirty years. I am also a lifelong fan of martial arts, boxing and Luchador films.
Recently, I joined a team of stellar authors, who all write under the pen name Jack Tunney (for e-book versions only; paperback versions are in the authors' names), as part of the Fight Card Project.
The books in the Fight Card series are monthly 25,000 word novelettes, designed to be read in one or two sittings, and are inspired by the fight pulps of the 1930s and 1940s, such as Fight Stories Magazine and Robert E. Howard's two-fisted boxing tales featuring Sailor Steve Costigan.
In 2013, the Fight Card series published twenty-four incredible tales of pugilistic pandemonium from some of the best New Pulp authors in the business. I am writing under the Fight Card MMA brand with my book, Fist of Africa.
Buy "Fist of Africa" TODAY!
Buy it in Paperback on Balogun's Website, OR at,

About Balogun Ojetade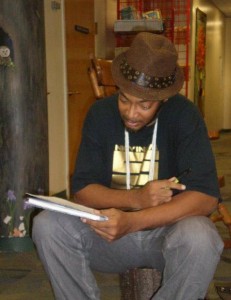 Balogun is the author of the bestselling Afrikan Martial Arts: Discovering the Warrior Within and screenwriter / producer / director of the films, A Single Link and Rite of Passage: Initiation.
He is one of the leading authorities on Steamfunk – a philosophy or style of writing that combines the African and / or African American culture and approach to life with that of the steampunk philosophy and / or  steampunk fiction – and writes about it, the craft of writing, Sword & Soul and Steampunk in general, at Chronicles of Harriet.
He is author of six novels – the Steamfunk bestseller, MOSES: The Chronicles of Harriet Tubman (Books 1 & 2); the Urban Science Fiction saga, Redeemer; the Sword & Soul epic,Once Upon A Time In Afrika, two Fight Fiction, Action-Adventure novellas – A Single Link and Fist of Afrika and the two-fisted Dieselfunk tale, The Scythe. Balogun is also contributing co-editor of two anthologies: Ki: Khanga: The Anthology and Steamfunk.
Finally, Balogun is the Director and Fight Choreographer of the Steamfunk feature film, Rite of Passage, which he wrote based on the short story, Rite of Passage, by author Milton Davis.
CONNECT WITH BALOGUN AT:
His WEBSITE
His FACEBOOK Fan Page
His TWITTER Handle
His TUMBLR Page