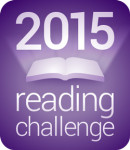 So I've joined Goodreads' 2015 Reading Challenge, and I'm pledging to read 100 books this year! That's a ton in and of itself, but I'm also going to attempt to REVIEW each book as well!
While you can always tune into my progress by looking at my Goodreads widget in the sidebar, I'll also be posting my progress and my book reviews here on my blog!
Talk about holding oneself accountable, right? 😉
So to begin is a book on getting your baby to sleep, lol! Because I'll need all the writing time I can get if I want to make all of my goals for 2015. If you're a new mom or dad, and fighting for your art via creative guerrilla warfare like I am, then you'll DEFINITELY want this book!
Good Night, Sleep Tight by Kim West
[cjtoolbox name='Good Night Sleep Tight REVIEW' ] [/cjtoolbox]
Tag you're it! I challenge YOU to join up with the GoodReads 2015 Reading Challenge today! And as always…
Keep it indie!
<3 Colby