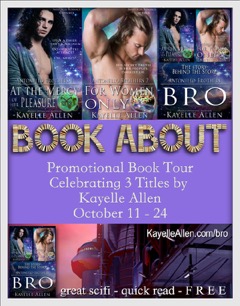 Ladies, LAYDIES!! No one ever said that the month of Horrors needed to be completely hollow and hallowed.
How about Hot, Heady, Husky, and Hunkalicious? MM!
Well, if you're looking for a little somethin' somethin' to warm up your chilly fall weekend, then cozy on up to my blog as we continue our October Horror Hop with Kayelle Allen's sci-fi romance series, "The Antonello Brothers"!
You she-devils already know the deal: I'll first give you an overview of the entire series, but then each day, I'll post a SWEET feature for each individual book!
Both courtesy of myself and Book About Blog Tours, for the entire weekend (Friday, October 16 – Monday October 19) I'll be shining some sweet spotlights on Allen's work… and on those delicious man-muscles we can find within it.
The Antonello Brothers Series

Professional thieves, sexy soldiers, betrayals, and civilizations on the brink of intergalactic war.
Let's hope the Antonello Brothers can handle it… along with the fiesty femmes and forbidden love that promise to be their undoing.
Containing three titles– At The Mercy of Her Pleasure, For Women Only, and Bro– The Antonello Brothers series is not a ride to be missed.
GRAB A FREE ANTONELLO BROTHERS BOOK NOW:
Bro (Prequel) – FREE BOOK!!! 
GRAB THE OTHERS NOW ON AMAZON:
At the Mercy of Her Pleasure (Book 1)
For Women Only (Book 2)
Slip into The Empire today, and become undone…
More About Kayelle Allen
Kayelle Allen is a best selling, multipublished, EPIC Award winning Science Fiction Romance author. She is known for unstoppable heroes, uncompromising love, and unforgettable passion.
In 2011, she founded The Author's Secret, an author support company specializing in eBook conversion services and graphic design. In 2006, Kayelle created Marketing for Romance Writers, a self-help mentoring group which helps members of the literary community to learn effective marketing skills by working in a co-op for promotion. She teaches workshops and is a guest on numerous online conferences. She holds an honorary lifetime membership to Outlantacon, a scifi convention for the gay geek. Her blog, Romance Lives Forever, hosts authors, models, and filmmakers, and boasts its own hashtag and daily newsletter on Twitter.
CONNECT WITH KAYELLE:
Her Website: Homeworld
Her Blog: Unstoppable Heroes Blog
Tweet Her: Twitter
Facebook Her: Facebook
Pin Her: Pinterest
Google+ Her: Google +
Check Her Out on: Goodreads
IG Her: Instagram
Follow Her On: Tumblr
Check Her Out On: DeviantArt
YouTube Her: Youtube