Welcome to Day #8 of our October Horror Hop, where for this weekend, we'll check out Kayelle Allen's sci-fi romance, "The Antonello Brothers" series!
First up, Book #2, For Woman Only! Omg… how could you NOT just start drooling, ladies!! Don't forget to check out the steamy excerpt below, and kick off your reading binge with a FREE BOOK from Kayelle!
For Women Only (The Antonello Brothers, Book #2)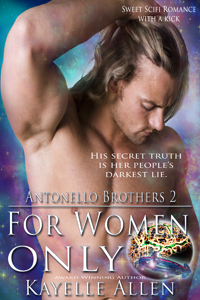 His secret truth is her people's darkest lie.
When Kin Ambassador Mehfawni visits the capitol planet of the Tarthian Empire, she meets the human Khyff, a security expert with the company For Women Only.
Fawni expects a fling, but finds love.
Upon discovering her own people devastated his family, she longs to restore all he lost, but some tragedies can never be reversed. Her family demands she cast out the human, for if she keeps Khyff, she must deny her heritage and abdicate her future rule.
When Fawni searches for an alternative, she stumbles upon Khyff's darkest secret, a cover-up that if exposed, will betray her world to its enemies, and bare her family to open shame.
But how can she let him suffer in the darkness that binds his heart?
Sequel To: At the Mercy of Her Pleasure (Antonello Brothers series, Book #1)
Publication Date: August 2, 2015
Reprint – previously published under the same title
Genre: Sci-fi Romance
Heat level: Mainstream
---
Download the first chapter of For Women Only FREE TODAY!

---
Check out "For Women Only" on Goodreads

---
BUY NOW AT EBOOK RETAILERS!!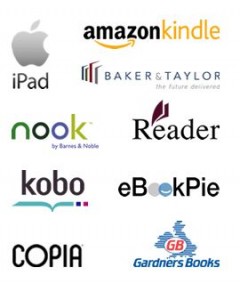 ---
Get FREE BOOKS in the Series!!
---
Check Out This STEAMY Excerpt from "For Women Only"!
**This scene is between Khyff and his brother Senth, and Senth's fiancé NarrAy. They are discussing a Kin female. Kin are feline humanoids, and Senth is a mix of Kin and human.**
**It begins with Senth speaking.**
"Khyff, I think she had a thing for you, Bro."
Khyff snorted. "Like I'd ever want a mangy Kin."
"Mangy?" Senth's brows lowered. "Did you forget who you're talking to?"
NarrAy moved out from between them and around to the other end of the island.
"We've been over this, Sen." Khyff heard the impatient ring in his own voice and tried to curb it, without success. Fatigue clawed at his reserves of energy. "You look almost human.
Why do you want to be accepted by those animals, anyway?"
"Kin aren't animals, Khyff. We've been over that, too."
"Yes, they are." He fought the rage threatening to strangle his thoughts. "They tried to kill you the minute you were born. They didn't want you. They hated you on sight."
"You mean you hated me, Khyff. You didn't want me." Senth stood, shoving the stool out of the way. "If it weren't for me being a half-breed, your mother might still be alive."
"Our mother." He leaped to his feet. "She cried over you for days when the Kin stole you from her. Nothing I said or did made any difference." Khyff braced both hands on the counter. "I was a child, Sen. I couldn't help her, but I didn't know that then. I thought it was my fault. All I knew was because of you, they threw us out, and Mama wouldn't stop crying. She abandoned me because of you."
NarrAy gasped and covered her mouth, eyes welling with tears. "Oh, Khyff. I'm so sorry you were hurt like that."
All the strength drained out of him, taking the anger with it. He sat.
Senth slid a hand across the table and touched the tips of his fingers to Khyff's. With a male economy of words, that expressed enough. Both forgave.
NarrAy sidestepped around the counter and lifted her arms to Khyff for a hug.
He enfolded her in a warm, safe embrace, arms wrapped all the way around her tiny frame. He drew her between his knees and pressed his face against her neck.
Two years before, she'd rescued him after a savage attack that had landed him in the hospital. Since then, he'd allowed no one but her to touch him. Senth got a rare handshake.
He relished the pressure of her gentle arms around him, the rapture of her skin against his. Khyff risked chemical dependence, holding her. Even with short exposure, the touch of a Better addicted. She'd accidentally addicted him once, and he'd suffered while weaning himself. His brother could never leave this woman. Never love another. Senth was hers.
By new laws passed recently, NarrAy must cover her entire body in public. Khyff shouldn't risk addiction again. Shouldn't let her touch him. Shouldn't… He hugged her closer.
Her touch soothed, tranquilized. How anyone could expect a woman as loving as NarrAy to hide from the world? She wasn't dangerous. Already, the darkness of Khyff's soul was lifting, evaporating. Fading. How could he have forgotten how wonderful she smelled? How sweet she was? How comforting it was to be held?
The teapot whistled.
"I'll get it, Khyff." NarrAy stepped back.
The absence of her touch left Khyff bereft. Dropped him back into his darkness. He turned away. Careful not to let Senth see it, Khyff clutched one hand over his heart.
More About Kayelle Allen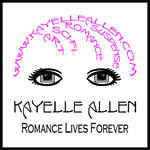 Kayelle Allen is a best selling, multipublished, EPIC Award winning Science Fiction Romance author. She is known for unstoppable heroes, uncompromising love, and unforgettable passion.
In 2011, she founded The Author's Secret, an author support company specializing in eBook conversion services and graphic design. In 2006, Kayelle created Marketing for Romance Writers, a self-help mentoring group which helps members of the literary community to learn effective marketing skills by working in a co-op for promotion. She teaches workshops and is a guest on numerous online conferences. She holds an honorary lifetime membership to Outlantacon, a scifi convention for the gay geek. Her blog, Romance Lives Forever, hosts authors, models, and filmmakers, and boasts its own hashtag and daily newsletter on Twitter.
CONNECT WITH KAYELLE:
Her Website: Homeworld
Her Blog: Unstoppable Heroes Blog
Tweet Her: Twitter
Facebook Her: Facebook
Pin Her: Pinterest
Google+ Her: Google +
Check Her Out on: Goodreads
IG Her: Instagram
Follow Her On: Tumblr
Check Her Out On: DeviantArt
YouTube Her: Youtube