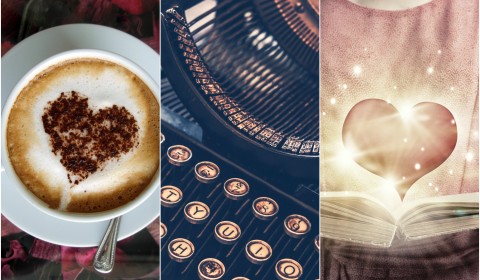 THOUGHTS, RAMBLINGS, WHATEVS
So my word count for this week was ABYSMAL, and to be honest, I struggled with the notion that not only should I cancel the pre-order of The Iron Maiden, but that I should also just cancel my author writing life, lol.
But I'm not, obviously. There's no way I'm going to let my reading community, or myself, down!
Still, I'm definitely on an emotional rollercoaster where my author career is concerned. I was feeling mega-frustrated because I felt I had no time to really get into a writing space, what with being 24/7 with the little one, and all. I was (and still am) also struggling with my enjoyment of my craft. These feelings honestly were brought on by my type-A nature that is always goal-ifying everything in my life. Goal #1: Write 5,000 words a day. Goal #2: break 1 million words a year. Goal #3: publish 10 books next year.
Etcetera. Somewhere along the way, I had to let go of some goals, at least temporarily, so that I could actually reconnect and enjoy my writing and my creation process. Otherwise, my passion will die on the vine. Anyways, I've had a series of blog posts just a brewin' inside of me around this very topic, but have postponed them specifically so that I can use my limited time to focus on finishing my novel. But I WILL discuss the "goal release" and "falling back in love with your craft" process at some point, most likely at the end of this quarter. It's an important topic to talk about, especially with the wonderful transparency of the indie pub industry, where you can look into the amazing successes of other authors and want to emulate their success and flexible lifestyles.
Doing this for love, though, is definitely a first and foremost priority for me. I've been wanting to pick up Susan Kaye Quinn's "For Love or Money" again, and finish reading it, but of course, I'm eyeballs deep in two other books, and am trying to finish those first, lol!
In slightly cooler news, I feel as though my cup is getting full on learning in some areas of my creative education. What I mean is NOT that I'll ever be done learning, but that I'm now seeing a lot of the same info being replicated by both the big cheese authors in indie publishing AND by the big cheese online marketers in other fields. This is a great sign because repeated information means that my learning on this front is coming to a crawl (temporarily), and thus, I can reduce my class taking and increase my execution and action!
I'm not quite ready to execute JUST yet. There's still a lot of preparation to do. But by the beginning of July in Q3, I'll be ready to go full speed ahead with my author goals and business goals!
LAST WEEK'S HAUL
What I wrote: More of The Iron Maiden, but my word count was a hot mess. It's already going WAY better this week, but I'm aiming for 5,000 words a day. Obvs, I'll update ya'll on whether or not that's worked out, lol!
What I edited: LOTS of author branding stuff got done, which I'm super happy with. I created a favicon and lots of website and branding stuff for my secret pen name. Also updated the favicon on THIS site, if you haven't noticed! 😉  And I've done way more branding stuff that I personally find fascinating, but that'd just bore you, dear reader. (Yes, I'm a nerd, lol!)
What I read / watched / listened to: Like literally one chapter of Mockingjay, and lots of articles on being an artist, mom, and both. And more. Also caught up with my usual podcasts and discovered some new ones, too! I tell you, there's no shortage of free, enlightening, and uplifting info out there.
What I researched / developed: Lots of worldbuilding and plotweaving for The Books of Ezekiel and The Iron Maiden. Baby steps!
What I learned: YES! I got back into my personal creative uni jam with "Your First 10K Readers" for this week, and I'm FLYING through the modules. Got lots of actionable tips here, and I can't wait to implement them! I really love this online learning journey, and Nick's course is golden.
THIS WEEK'S HUSTLE
What I'm writing: The Iron Maiden. And to be honest, I'm fucking terrified that it might not get done on time. But I'm pushing forward nonetheless!
What I'm editing: I've been able to get quite a bit of branding done for my Colby R. Rice author brand, The Bohemian Badass brand, and my secret author brand as well! I managed lots of tech stuff (on the front and back end), and the branding will continue throughout the quarter. Next on my "edit list" is probably:
Condensing my BOOKS page into one easily navigable page
Parsing down my website to make it more navigable
Fixing the pathway to make it easier for you to get free books
Next Week: Creating a strong "featured image" brand for all of my blog posts
Next Week: Creating a strong "featured image" brand for all of my book reviews
We'll see how much of this I actually get done, lol!
What I'm reading / watching / listening to: STILL on Mockingjay. This is going PAINFULLY slowly, and I'm really close to just chucking the story and moving on with my life. Lots of navel-gazing (in the novel) going on here. I'm not one to take anything away from an author, especially one as successful as Suzanne Collins. However, my GOD… the only reason why I'm staying in this is because I hate leaving things unfinished. Anyways, enough rambling. I'll leave my review as soon as I'm done with it! I have so many other books that I can't wait to dig into, that I feel like I need to draw a line in the sand with this one. I'm either finishing it this week or chucking it. Update coming next week.
What I'm researching / developing: I've decided to not really plan this out ahead of time, as my inspiration tends to sweep me off my feet and into whichever lands it chooses! I'm thinking that this week, though, I'll be developing more of the ASYLUM trilogy, only because I have a plot twist for one of the books that's been niggling and wriggling in my mind!
What I'm learning: Aaalmost done with the Your First 10,000 Readers course, so I'll be finishing that this week. And I'm also half-done with another complementary course this week: Ray Edward's jam-packed mini-course "Write Copy that Sells". I'm really enjoying it thus far!
Writing on, rocking on, and forever journeying towards creative badassery,
<3 Colby