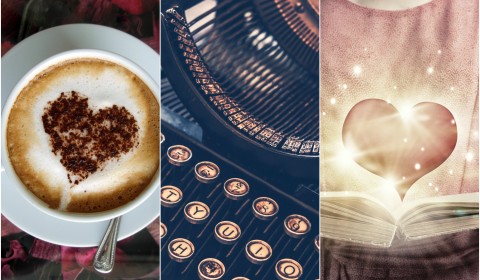 THOUGHTS, RAMBLINGS, WHATEVS
OH. MY. GOSH. So I've been away for far FAR too long, but for very good reason:
I've been working my ASS off. Like literally. Doing what, you ask? No worries, I'll get to that.
But FIRST, I'm going to celebrate the eight STRAIGHT weeks that The Given spent on Amazon's top 100 Free New Adult & College list! I just checked the listing now and saw that sadly, The Given is now at #104, but that's ok. I'll take 8 straight weeks with no complaint, and plus, who knows? Maybe it's just a temporary dip! 😉
In any case, I have about three weeks of cray and coolness to catch y'all up on.
So, first off, July took an unexpected and delightful turn right after my last post. I launched The Bohemian Badass with a really awesome joint venture partnership. And even though I said I wouldn't talk too much about BB here (because this site is for my fiction and folklorish stuff), I don't have much of a choice this week because, well, it's all I did this month.
The Iron Maiden took a back seat as I developed a really great masterclass and course called "Metaphor Maven", which teaches you, from concept to deliverables, how to create powerful metaphors for your writing. Furthermore, I teamed up with my course partner to not only offer the masterclass for free (and as a paid course later), but to then offer the full course as a bundle: Metaphor Maven & Write Your Brilliant Book… WITH coaching!
If you want to check out our totally FREE, info-packed masterclass on writing a brilliant book and mastering metaphor, click here to register!
Then, to advertise our course and reach a wider audience, I designed a Periscope series called "Writers' UnBlocked", which is a jam-packed, 15-day FREE boot camp that guides writers step-by-step through pre-writing their novels and getting their first two chapters written!
So it's been a whirlwind of awesomeness and learning experiences. Especially because in just 4 weeks, I will have conceptualized, outlined, developed, and FINISHED five separate course products upon which The Bohemian Badass can launch into the stratosphere. I've also created and outlined (no development yet, though) 14 other course products, one of which is going to be a pretty AMAZING e-book on Writing Badass Description (coming out this fall)!
And what's even better is that in August, The BB is going to kick off its blog AND its podcast, to give the world a weekly wily dose of badass creatives doing badass creative things. To boot, The Bohemian Badass focuses on women and female creatives in particular, with an emphasis on women of color. So, just as the blog will cover novel writing, cinematic creativity, filmmaking and producing, screenwriting, playwriting, and game writing and design, the podcast will feature women (and women of color) who are steeped in all these areas!! I'm SO excited!
The experience of really putting this together this month has really upped my confidence in my creative capabilities. Being a full time mom for the past two years has really changed my identity (in a good way), but I haven't lost that creative and professional fire. I've really learned how to merge the two this past month.
Steeping myself like this was also a great way to heal from the personal, social, and political traumas that have been happening in the past month in the United States. It reminds me that the power to create and love will always outweigh the power to destroy and hate. And that is a wonderful thing.
In other news, the little one's been transitioning into daycare, and not without difficulties. She's very attached to Mommy, and pouts and cries for a bit when I leave, but I can see the improvements every day. She's treated very well there and the women are so wonderful and understanding; they are also really supportive of me as a single mom. I love having the support of a group of older women who are invested in me and my daughter. #takesavillage
Meanwhile, despite the heat, I've been getting in a CRAZY amount of exercise, which is a nice pre-training to the wushu, martial arts, and swordplay classes I'd like to start taking this fall! I have a feeling I'd have a knack for it… don't know why, but I'm excited to try. Lots of hobbies, old and new, are about to brighten up the very few lazy spaces in my life. Among my happy hobbies will be indoor gardening, knitting, music lessons, and probably some drawing and painting too! It's all a matter of having the time.
School, work, dramaturgy, and other work-related projects are also quickly approaching! And I haven't even gotten my apartment in order yet, nor have I gone clothes shopping or supply shopping. But that's just how it is. I've only three more weeks to go before I have to stop worrying about summer survival, and the universe has been so SO good to me this summer! So despite my disorganization, you'll hear no complaints from me, lol.
Aside from The Bohemian Badass, lots of creative and professional opportunities have just sort of… dropped in my lap, shall we say? I'm now one of the volunteer grant writers for the Literary Managers & Dramaturgs of the Americas. Also, a Russian game studio contacted me out of the blue with a potential game writing assignment. I'll find out more about that mid-fall, supposedly. And then there's that scholarship opportunity that's supposed to be giving me a decision by August 15th or so… Not to mention that I'm teaching TWO classes at U of Arizona now, not just one like I thought, lol. Soooo… OMG. Plus, I have a toddler. o_O
Psycho schedule, much?
So yeah. LOTS of awesome creative things happening here, and I'm so amped. Still, it's time to buckle down, finish off July's projects and then reorganize my days so that I can write my fiction in the morning and work on The Bohemian Badass and other business stuff in the afternoon. I STILL plan on publishing these five novels before the end of the year, and a little success in some areas of my professional life canNOT stop or distract me from me moving forward with my indie author life. It's been nearly three years since the release of my first two novels… it's time to get a move on with the next five installments of the series. Then, I'll be taking a little "break" (not really) from The Books of Ezekiel next year so that I can develop a trilogy, another unrelated series, and then start the seedling work for my action-thriller film trilogy. SO, I need to get these next five BOE books out now.
So that was my July, and I have so much more coming for August. So I'll end this part of the post and get into my haul for the last THREE weeks! And, of course, I'll include this week's creative hustle as well. But from now on, you can consider me officially back on the blog. ::blows kiss:: So glad to be back! I missed it. <3
LAST 3 WEEKS' HAUL (7/11/16 – 7/31/16)
What I wrote these past 3 weeks: The word count for July was abysmal. The month started off great, but as soon as I got into the course-making, The Iron Maiden just cooled down on the back burner. For the past three weeks, I've written a grand total of 1,714 words for the Iron Maiden and a grand total of 2,416 words for The Books of Ezekiel series as a whole.
Ugh. Damned course creation muse, lol.
I guess the major silver lining here is that I'm now writing more broadly across the second arc of the series, laying down story and plot lines for the other books that will follow The Iron Maiden. August, though, my focus is shifting. It's time to train myself into the morning writer, afternoon course maker chick, lol.
What I read / watched / listened to these past 3 weeks : In my walks with the little one, I've been able to catch up on quite a few of my favorite writing, publishing, and marketing podcasts. My reading has slowed down in July due to the crushing deadlines, but after this coming week is over, I suspect I'll have more time to finish the books I'm reading. I really need to focus on one book at a time, because this reading-all-the-books-at-once thing is just ridiculous, lol. Spent a lot of time catching up with The Blacklist and Arrow TV shows (mostly The Blacklist). Good stuff!
What I researched / developed these past 3 weeks: As I said, there were SO many things happening creatively in the past three weeks that it's insane! I've been developing both fiction properties and non-fiction properties (including more plot and more scenes for The Iron Maiden).
The non-fiction and writing courses, though, have really been flowing like you wouldn't believe. Like I said in my "thoughts, ramblings, and whatevs" summary, I've developed, outlined, and conceptualized a BUNCH of courses for The Bohemian Badass, and I'm just plain addicted to it now.
But happily, I also conceptualized a new novel series! I won't get to it for a LONG while, but it's going right onto the Rebel Ragdoll project slate. I can't really summarize all the projects I've been developing; it'd take WAAAY too long! So I'm just going to list them and their "planned" release schedules here briefly:
The Coldest Case – sci-fi crime thriller (on the project slate for a way-in-the-future date)

The Metaphor Maven signature course – coming Aug 8th!
The Metaphor Maven masterclass (standalone) – coming August 15th
The Write Your Brilliant Book-Metaphor Maven (dual) masterclass – coming Aug 30th!
Writers UnBlocked FREE 15-day Writing Bootcamp: The Pre-Writing Version – coming Sept 1st
Writers UnBlocked FREE 15-day Writing Bootcamp: The Chapter Writing Version – coming Sept 15th
Simile Sage masterclass – coming Oct 1st
Alliteration Assassin masterclass – coming Oct 15th
Rhyme Rebel masterclass – coming November 1st
Rhythm Rogue masterclass – coming November 1st
Irony Icon masterclass – coming November 15th
Plot like a Badass signature course – coming January 16th, 2017
Write Description Like a Badass e-book + Workbook – coming February 6th, 2017
Description Deity masterclass – coming February 13th, 2017
Description Deity signature course – coming March 6th, 2017
Writing Badass Action Scenes masterclass – coming April 6th, 2017
Writing Badass Action Scenes signature course – coming May 1st, 2017
WOCC SUMMER SUMMIT!!! (June 12 – June 19) or (June 19 – June 25)
Writing the Badass Cinematic Novel masterclass – coming June 1st, 2017
Writing the Badass Cinematic Novel signature course – coming June 26th, 2017
Writing the Badass Trilogy masterclass – coming July 17th , 2017
Writing the Badass Trilogy signature course – coming August 7th, 2017
Writing the Badass Novel Series masterclass – coming September 4th, 2017
Writing the Badass Novel Series signature course – coming October 2nd, 2017
Mastering Your Writing Voice masterclass – coming November 6th, 2017
Voice Vixen for Writers: Master Your Writing Voice signature course – coming December 4th, 2017
BY THE WAY! There'll be plenty of opportunities to get these classes at a STEEP discount (or even for FREE, limited) as I roll them out in beta, so if you're interested in being on the VIP Course BETA-tester list, just click here and sign up! You won't be enrolled immediately; you'll have to eventually apply to be a beta-tester, but you'll be high up on the list! If you're chosen to be a beta-tester, you'll get the course for free. Otherwise, you'll get an awesome discounted price that NO ONE ELSE has access to! Just click the link and drop your email, so I know where to send the discount.
What I learned these past 3 weeks: So, I think I definitely KILLED Regina Anaejinou's Killer Mini Course Challenge, as I created four mini courses, lol. And the fifth but major one is on its way out Aug 8th. I also killed part 1 of her Epic List-building Bootcamp (co-hosted with Kory Woodward). I only finished "part 1" in that I created the list building course, but now I have to do part 2: polishing it, making it pretty, and finding a way to market it for when it releases.
I also sat a couple of WONDERFUL masterclasses that enriched my soul, including:
THIS WEEK'S HUSTLE (8/1/16 – 8/7/16)
What I'm writing: I'm putting my focus BACK on The Iron Maiden, as I've been away from the novel for far, FAR too long at this point. I'll still have to finish up preparations for the Metaphor Maven signature course, as it releases on August 8th, but I am definitely back on my daily grind for the novel as well. Happily, during the off time from the novel, I finished developing a whole host of plotting tools that is making writing the book a HELL of a lot easier! (And of course, these tools will become a course, lol!)
What I'm reading / watching / listening to: Still catching up with The Blacklist and I'm on episode 19 of 22. That's only FIVE more episodes of this awesome AMAZING show, and I'm so sad to have it come to a temporary close. BUT season 3 is coming up this fall, so that's pretty badass and exciting. Plus, once this is over, I can focus on How to Get Away with Murder and Orange is the New Black, lol.
I have to say, watching television has really, REALLY fanned my flames of interest in writing serialized novels. Like, TV novels, so to speak, with self-contained episodes… it takes a special kind of concept and positioning, though, in order to pull something like that off. But I know I can, and I've seen others do it too. That'll probably be a creative experiment that I roll out in 2018.
What I'm researching / developing: We'll see what shakes out this week. The more I work on my Metaphor Maven signature course, the more my mind continues to develop my other masterclasses and courses for The Bohemian Badass. Which is great, but I'd also like to get my mind BACK into the fiction mindset as well. I'm trying to develop a dual mindset: a morning mindset for my fiction and an afternoon mindset for The Bohemian Badass. At the moment, my focus tends to linger on one of those for the entire day rather than on dividing the day between them. I know, I know, I'm a work in progress!
What I'm learning: I'm still in the throes of finishing up my creation of the Metaphor Maven signature course, so this week I'm going to take a lighter, more personalized course. I've signed up for Mariana Ruiz' Supermom Sanity course, LOL. Because with as much as I work, as busy as I am, and as much as I love and adore my little Queen, hanging onto my sanity is a challenging endeavor. So this should be a nice little break from, organization of, and motivation FOR all the craziness of this upcoming week!
PHEW! Let's do this! 😉
So, omg, so many awesome things, so many blessings, and so many silver linings! 🙂 I'm glad to be able to come back to you guys with all of this great news! What's been going on for you all this week? Any awesomeness or gratitudes to report? Leave your comments and thoughts below!
Writing on, rocking on, and forever journeying towards creative badassery,
<3 Colby