Podcast: Play in new window | Download
Subscribe: RSS
Soo, giving myself some grace last week REALLY helped, but apparently, I need to whip out the EXTRA grace this week as the tides of fuckery rise against my person again, lol. Laugh = light, y'all. Still, while this week dragged me a bit and I took a few L's, I still came out with some awesome skills and knowledge that will stay with me forever.
---
VLOG

VERSION
---
---
I APPEARED ON THE

"FANTASY FIENDS" PODCAST

!
Check out our discussion on afro-futurism: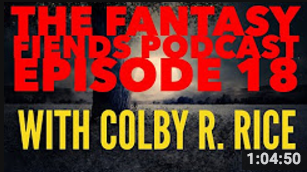 ---
My

creative uni 

resources (mentioned

in the

podcast)!
LEARN THE ART OF ACTION EDITING: The guys at Film Editing Pro reall put their foot in this one, y'all! I'm LOVING this fully-fledged course for action editing, and I'm learning so much! Check it out here: http://www.filmeditingpro.com/the-art-of-action-editing/
APPLY TO MY MFA PROGRAM: Still, if you want to apply to my program (a 3-year, FULLY-FUNDED MFA program in Theatre Arts with a concentration in Generative Dramaturgy) for the Fall of 2019, check us out here: https://grad.arizona.edu/programs/programinfo/THARMFAGEDR
---
JOIN THE
HOLLOW POINT
LAUNCH TEAM
Get free advanced copy of the novel, free gift cards, and other prizes! https://app.convertkit.com/landing_pages/149478?v=6
---
LEARN HOW TO

WRITE

&

PLOT

CINEMATICALLY

:
---
FOR AUTHORS:
JOIN NEW ADULT NOIRE!
We hook readers into THE darkest, grittiest, heart-pounding-est sci-fi, fantasy, horror, and romance to ever exist. All hearts of darkness welcome!
Join New Adult Noir(e) today to expand your rabid readership and join our joint promotions:
https://docs.google.com/forms/d/e/1FAIpQLSeElicXmpH3YO7gDZbj9DoflIkHajMEGRRU1g7BeuwqUqCFYg/viewform
SIGN UP TO JOIN OUR MEGA-GIVEAWAYS AS A SPONSORING AUTHOR:
http://www.newadultnoir.com/for-authors/join-our-mega-giveaways/
PROMOTE YOUR *FREE* BOOKS & NOVEL SERIES AT NA NOIR(E) FOR FREE:
— Authors! Promote your FREE SFF/H & SFF/H Romance books to my 13,000 Readers for FREE: http://bit.ly/2uKsfHo
— Authors! Promote your SFF/H & SFF/H Romance NOVEL SERIES to my 13,000 Readers for FREE: http://bit.ly/2ubEJLk
OPEN GIVEAWAYS AT NA NOIRE (FOR AUTHORS):
— Authors! Join our "25 Days of Box Sets" Christmas Giveaway: http://bit.ly/2qcG5DS
---
FOR READERS:

GRAB FREE BOOKS, DISCOVER NEW SERIES, AND WIN AWESOME PRIZES!
NEW ADULT NOIR(E) FOR READERS: Join New Adult Noir(e) for unlimited access to THE darkest, grittiest sci-fi, fantasy, horror, and romance reads, amazing giveaways, free books, amazing series, free bundles, and more!
Grab your FREE NA Noir(e) starter library at:
http://www.subscribepage.com/freedarklibrary 
---
MORE
AWESOME GIVEAWAYS AT

NA NOIR(E)

:
grab the hottest dark n' gritty SFF/H and SFF/H novels and series in the land!
1. FREE Dark & Gritty SFF/H Books for September: http://www.newadultnoir.com/na-genre-pushes/
2. Discover NEW, Dark & Gritty SFF/H Series for September: http://www.newadultnoir.com/series-discovery-promos/
3. The Book Depository (grab over 400 free e-books in ANY genre): http://melanietomlin.com/tpr-freebies/
4. FREE YA Boxset: https://books.pronoun.com/otherworlds-the-ya-scifi-fantasy-boxset/