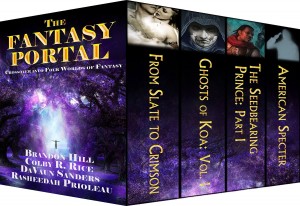 Nearly 1,000 pages of fast-paced urban, epic, paranormal, and romantic fantasy!
Get four epic stories by four amazing fantasy authors, all in one bundle, for over 85% off! Limited time offer!
If you're looking for wild rides with vampire clans, otherworldly heroes, alchemists, and ghosts hunters, then step into the Fantasy Portal and be transported into four worlds of wonder! Don't miss out on this thrilling, four-book collection of urban & epic fantasy, paranormal romance, and paranormal mystery from four emerging fantasy & paranormal fiction authors:
Brandon Hill – From Slate to Crimson (Paranormal Romance)
Colby R Rice – Ghosts of Koa, Volume I of II (Urban Fantasy)
DaVaun Sanders – The Seedbearing Prince: Part I (Epic Fantasy)
Rasheedah Prioleau – American Specter: The Seven Sisters (Paranormal Mystery)
AVAILABLE

NOW

AT THE FOLLOWING RETAILERS:
WILL ALSO BE AVAILABLE SOON AT:
---
What You'll Get!
---
From Slate to Crimson, by Brandon Hill (Paranormal Romance)
Talante, for 10,000 years has governed his clan like a father in the endless war with their hated enemy over the fate of humankind. One winter's night, he chances to meet Amelia Grayson, a human whose blood arouses his desire, and whose presence arouses his compassion in a way no mortal ever has before.
Distracted and terrified by all but alien emotions and instincts by this burgeoning bond in a prelude to what may be his clan's most desperate hour, Talante is caught between duty and desire, until he is forced by choice and circumstance to decide whether to hold to the one he has grown to love more than his immortal life, or in spite of the cost, let go for the sake of his people and Amelia's safety, in spite of twofold danger: one from a ravenous enemy that has hunted her kind for millennia … and the other from the seductive bond that would make her forever his, body and soul.
---
Ghosts of Koa, Volume I of II, by Colby R Rice (Urban Fantasy)
For over one hundred years the Civic Order and the Alchemic Order have held a shaky truce, peppered by violence and mistrust. But when Koa, a Civilian-born insurgency, bombs an Alchemist summit, the truce is shattered. Now, Koa is rising. War is coming. And all sixteen-year-old Zeika Anon can do is keep moving as she watches the lords of alchemy slowly overtake her home.
But when clashes between Koa and the Alchemic Order put a final, deadly squeeze on the remaining Civilian territories, Zeika finds herself in the crosshairs of fate. She must walk the line between survival and rebellion against the Alchemists. On one side of the line awaits death. On the other, the betrayal of her civilization, her loyalties, and herself.
__
The first volume in THE BOOKS OF EZEKIEL decalogy, GHOSTS OF KOA is a fast-paced, post-apocalyptic survival tale, set in the streets of a dying city that has been crushed by alchemic law. Layered with the elements of gritty crime drama, dark urban fantasy, hard sci-fi, and horror, GHOSTS OF KOA is a wild ride to the end of a young girl's sanity as she struggles with an impossible choice: to keep one step ahead of a war… or to be consumed by it.
CONTENT WARNING – Contains coarse language, intense violence, adult / suggestive themes, and aberrant behavior. Reader discretion is advised.
---
The Seedbearing Prince: Part I, by DaVaun Sanders (Epic Fantasy)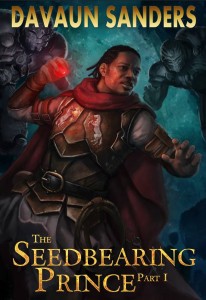 Dayn Ro'Halan is a farmer's son sworn to a life of plowing on his homeworld, Shard.
After finding a lost artifact called a Seed, he's thrust into an ancient conflict between voidwalkers of the hated world Thar'Kur, and Defenders from a floating fortress called the Ring.
Dayn must become a Seedbearer and learn to use the Seed's power to shape worlds before the entire World Belt is lost.
---
American Specter: The Seven Sisters, by Rasheedah Prioleau (Paranormal Mystery)
Audra Wheeler has been haunted for the last thirteen years by a paranormal attack that left her adopted sister, Kendra, in a coma. Mentored by FBI Assistant Director Jonathan Cordero to investigate specter crimes, Audra believes she's on the trail of a serial killing specter with a mode of operation much like her sister's attacker. The trail leads her to a small town in Georgia called Specter. Specter has become a haven to ghosts who have crossed back over and exist among the living. For better or worse she also finds herself working with the town's Sheriff, Ethan Cole, her ex-partner and old flame.
With a chip on her shoulder and a strong dislike of specters, Agent Wheeler has a hard time adjusting to the ever-present state of specters until the latest victim, Gwyneth Miller, comes back as one. When specter Gwyneth Miller is adamant that it was not a specter that killed her, Audra Wheeler finds herself opening up the twenty-five year old cold case of the town's most notorious unsolved homicide, the murder of Abigail Stevens, who just happens to be Gwyneth Miller's biological mother.