As a part of the running theme of #WeNeedDiverseBooks month, I'm delighted to present an eye-opening documentary about the amazing and arduous journeys of successful Black creators through the comic, publishing, tv, and film industries. The documentary is called "Brave New Souls: Black Sci-Fi and Fantasy Writers of the 21st Century".
The producer and filmmaker, Brandon Easton, thought it was about time to shed light on how creators of colors are actively building a counter-narrative against the presiding stereotypes that African Americans do not read, write, or create works within a sci-fi and fantasy context.
Check out the BRAVE NEW SOULS documentary today, and have your world expanded!
About the "Brave New Souls" Documentary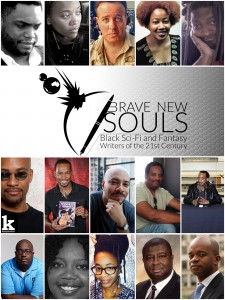 This documentary explores the thoughts, goals and inspirations of a new generation of Black creators in graphic novels, television, cinema, literature and digital media. Producer / director Brandon M. Easton wanted to shine much-needed light on new Black writers whose contributions and market awareness have been buried under the onslaught of the myriad of entertainment options in the 21st century.
Brandon also wanted to provide a window into their creative process and expose both aspiring writers and potential fans to incredibly imaginative, witty and sophisticated storytelling that challenges your perception of reality.
Brave New Souls explores the various creative industries and their spearheads through 8 compelling chapters:
Chapter 1: Inspiration — 2:46
Chapter 2: Breaking In — 7:01
Chapter 3: The Politics of Being a Black Creator — 10:14
Chapter 4: Starting a Business — 17:48
Chapter 5: Where Are the Fans? — 24:30
Chapter 6: The Industry — 33:01
Chapter 7: Writing for Rookies — 48:05
Chapter 8: The Future of Black Speculative Fiction — 54:30
Check Out the Awesome Trailer for Brave New Souls!
BUY Brave New Souls TODAY!
Get your copy for just $7.99 at GumRoad by clicking the logo below:

And it's also coming soon on Amazon Instant Video!
About Brandon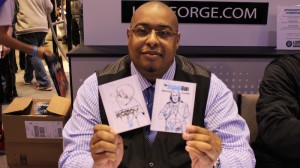 Brandon M. Easton is a professional writer, screenwriter, and educator based in Los Angeles, CA. Born and raised in Baltimore, MD, Easton is a graduate of Ithaca College and Boston University's prestigious Screenwriting program. With over fifteen years of experience, Brandon has penned articles for the Boston Herald, Crashpad Magazine, and a variety of other publications. After teaching in NYC public schools for six years, he decided to go for his screenwriting dreams in Hollywood and eventually scored a writing gig on Warner Bros. newThunderCats TV series and Hasbro's new show Transformers: Rescue Bots.
Brandon produces a popular podcast titled Writing for Rookies – the only show dedicated to comic book and Hollywood scriptwriters. His published work includes Arkanium and Transformers: Armada for Dreamwave Productions, a column for Blacksci-fi.com, and Shadowlaw, his newest major project that was released in January 2012 to much acclaim and an immediate sell-out from Arcana/Platinum Studios.
Shadowlaw garnered coverage in publications/outlets like USA Today, Wired, Forbes and Ain't It Cool News. Easton has been named the new writer of the international franchise Armarauders as well as a guest writer for the new Watson and Holmes comic series. In 2012, Easton signed a multi-graphic novel writing deal with LION FORGE COMICS, a new transmedia company debuting in April, 2013.
Easton recently won the 2013 GLYPH AWARD for BEST WRITER because of his work on the Shadowlaw graphic novel.
In 2014, Easton was nominated for five GLYPH AWARDS for his work on the WATSON AND HOLMES comic book series as well as the MILES AWAY original graphic novel. In May 2014, Easton won three Glyph Awards: STORY OF THE YEAR, BEST WRITER and the FAN AWARD.
He was also nominated for an EISNER AWARD for his work on Watson and Holmes issue #6 for BEST SINGLE ISSUE in 2014.
CONNECT WITH BRANDON AT: