Yup, you thought right. Here's the final special feature on one of the authors of The Fantasy Portal, a four-book fantasy novel bundle that's available globally for just .99 cents! Check it out when you can, and also check out The Fantasy Portal GoodReads Book Club, where eager readers will be discussing each novel as well as jumping into contests and giveaways for some great prizes!
Next up? Rasheedah Prioleau and her THRILLING paranormal mystery, American Specter!
American Specter
Audra Wheeler has been haunted for the last thirteen years by a paranormal attack that left her sister, Kendra, in a coma.  Mentored by FBI Assistant Director Jonathan Cordero to investigate specter crimes, Audra believes she's on the trail of a serial killing specter with a mode of operation much like her sister's attacker. The trail leads her to a small town in Georgia called Specter.  Specter has become a haven to ghosts who have crossed back over and exist among the living.  For better or worse she also finds herself working with the town's Sheriff, Ethan Cole, her ex-partner and old flame.
With a chip on her shoulder and a strong dislike of specters, Agent Wheeler has a hard time adjusting to the ever-present state of specters until the latest victim, Gwyneth Miller, comes back as one.
When specter Gwyneth Miller is adamant that it was not a specter that killed her, Audra Wheeler finds herself opening up the twenty-five year old cold case of the town's most notorious unsolved homicide, the murder of Abigail Stevens, who just happens to be Gwyneth Miller's biological mother.
This cold case takes Audra to every corner of the town from the poor trailers where Abigail grew up, to the mansion of the richest family in town, the Shelleys.  With a town stuck on not wanting to know what really happened, Audra relies on specters to uncover the truth that involves the secrets and lies of the Shelleys.
You can get American Specter as a part of a four-book Fantasy Portal Box Set for just 99 cents!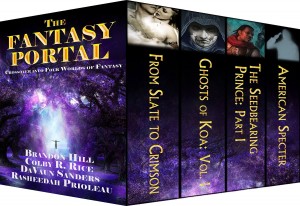 Also, 

Enter our GoodReads Giveaway

 where you can get The Fantasy Portal for FREE in paperback!
That's four weighty, kick-ass tomes for you to add to your physical book shelves.
The giveaway is running from August 15 – November 12, 2014.
There are only FIVE paperback bundles available, so enter as soon as you can!
Want even more from Rasheedah?
She's cooking up more than specters in her repertoire! While she's hard at work on the follow up novel to American Specter, she's also got a fantastic backlist of romantic fantasy! Check out the Princess X series below!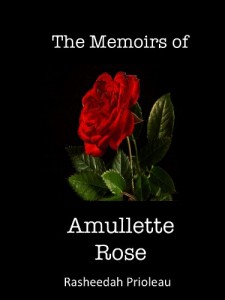 The Memoirs of Amullette Rose (Princess X Series, Book 1)
In a world fueled by greed and ruled by jealousy, a young lady, Amullette, finds herself caught in the middle of a power struggle between the corruption of the ruling government and the ambition of a rebellion. After her family is destroyed in an invasion, Amullette goes into hiding, hoping to bury the past. But, as years go by the past comes closer and closer until she finds herself face-to-face with it. Learning to fight and survive are not enough as Amullette must also learn who to trust.
Also check out Books 2 and 3 in the Princess X series!
About Rasheedah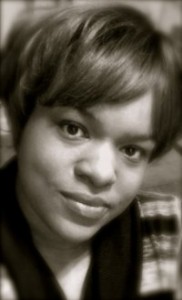 Rasheedah Prioleau is a southern African American writer with an eclectic range of writing and ghostwriting credits. After a few years in the corporate world she started over from the bottom as an unpaid intern for a literary manager and never looked back.
"I love to write because there are no limits. All it takes is a finite space of time and I can create a story from infinite possibilities."
Writers who have influenced her include: Judy Bloom, Jude Deveraux, V.C. Andrews, Octavia Butler, Stephanie Meyer, Charlaine Harris, Joss Whedon, William Nicholson, Shonda Rhimes, Quentin Tarantino, Tyler Perry, Mike Kelley, and J.J. Abrams… just to name a few.
CONNECT WITH RASHEEDAH AT: