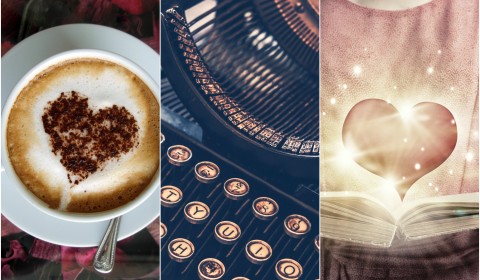 THOUGHTS, RAMBLINGS, WHATEVS
Ok, so first things, first: HAPPY INDEPENDENCE DAY!!!
The holiday itself has many contentions and unease surrounding it, especially for minority groups in the U.S. who were decidedly NOT free on July 4th. Still, with this sobering knowledge of the darker parts of our history, many of us still gather with friends and family to enjoy a wonderful, but very socially-conscious holiday and extra long weekend.
So! This past week was pretty rad. I celebrated a birthday, and the growth I've achieved in just a year is amazing. (#givingfewerandfewerfucks) The little one too, lol; she's going through a lot of adjustments in her schedule, and she's taking it like a champ. She totally rocks. Tucson is still awesome; no changes there. But I am definitely settling into a brand-new normal, and it's comforting.
One of my favorite places here, hands down, is the local library. It's not only beautiful, well-stocked, and staffed with the most awesome people ever, but they also have a free open play area for kids. Not to mention, they also have free kids' activities there every day! From Ronald McDonald to the "reading to puppies" program to story and supervised playtime, this library is such an amazing resource for parents. Can you say free two-hour break? Lol.
Tucson's also really helping me to get in some serious exercise and to focus more directly on my health. I'm clocking anywhere between 2-4+ miles per day in 80-90 degree weather. Which, if you know my relationship with heat, is mad impressive, hehe. It was hard at first, but I'm quickly getting used to it, and my body thanks me profusely for it. I can feel myself getting stronger, faster, and more durable. The BEST part, though? Ya girl found the AMAZING Confucius Center on campus at U Arizona, and they offer the most BOSS ASS CLASSES in the universe. So guess who's signing up for Chinese Boxing, Tai Chi, and sword fighting this school year? Yup. ME. Lol. I love this place!
P.S. The Given is still holding hella strong in Amazon's top 100 Free New Adult & College category. If you haven't checked it out, please do! Low risk, and all action, everything you need to get your fiction fix!
If you've already checked it out, liked it, and would like to leave a review, feel free to leave one here! As a bonus, if you show me your review (no matter what the review is), I'll send you the next book for free. 🙂
In conclusion, life's good. Definitely not without its challenges, but I'm truly blessed. As a quick and final side note, if you're wondering why I have such an upbeat outlook on life, it's NOT because everything is hunky-dory everyday. I contend with issues of dissatisfaction, rejection, failure, loneliness, despair, self-doubt, abandonment, and just purely negative external forces just like everyone else. I mean, you name it, and trust me, I've felt it or experienced it more often than I'd like to admit.
And yet!
In the end, I really do try to take a bird's-eye view of my life. When I do, I can see that it's mostly good and blessed. I started keeping a gratitude journal. Each day I write down five things I'm thankful for, no matter how small or trivial. That very act really shows me just how rich my life is, even when things are rough and there's no sunshine in sight. You gotta make your own sunshine. 🙂
Anyways, that's my piece! Here's the haul and hustle, as per usual:
LAST WEEK'S HAUL (6/27/16-7/3/16)
What I wrote: Moved up my word count by 2764 words for The Iron Maiden, and also clocked about 1858 words for the other four books coming after it. Not bad, but still working on improving my word count, obvs.
What I edited: The editing has come to a complete standstill, because there's nothing to edit. Might just take this section out for, like, the next three months, lol.
What I read / watched / listened to: As a happy birthday gift to myself, I binge-watched the entire season 6 of Game of Thrones in just two days. It was glorious, and I loved it! (And live tweeted it, with no spoilers.) Seasons 7 and 8 are really about to get TOO REAL. Also watched about half of the newest season of Orange is the New Black, and it's great. AND I finished another of SM Reine's "Seasons of the Moon" paranormal romance / urban fantasy books, "All Hallows Moon". If you want to see the review I wrote for it, check it out HERE.
What I researched / developed: did some more plotting for The Iron Maiden. I hope all of this pre- and peri-writing work is worth it in the end, lol. I ALSO did something super awesome: I started developing a Wikia for The Books of Ezekiel! Check it out HERE!
It's still in development and not aesthetically pretty yet. Just a skeleton sketch at the moment. To make sure I get ALL the details covered, I'm re-listening to my first two audio books and creating the Wikia outline as I go. And yo, already there are a LOT of pages to build, lol. Places, Guilds, characters, demesnes, family trees, timelines… but I love it. So goes the Wikia-lives of epic (urban) fantasy series, right?
I'm super excited about this online community. Not only will it up engagement, but it will also just help me keep track of my worldbuilding, plots, characters, and way more. I'm only filling in the Wikia as the series develops, to avoid spoilers. And of course, this is for you guys! So you are more than welcome to join and add your own info and pages!
And keeping with the trend, I'll be developing Wikias for each new series I create as well.
What I learned: I finished The Profitable Teacher course, and it was great! A lovely refresher of some things I already know about online teaching + some new and fresh perspectives, tools, and tips! Highly recommended for those of you looking to get a great intro into opening your own online teaching platforms!
THIS WEEK'S HUSTLE
What I'm writing: More of The Iron Maiden, obvs. I feel more of the story line falling into place for the subsequent books as well. So, I feel good vibes all around on what I'm doing.
What I'm editing: Nothing planned here.
What I'm reading / watching / listening to: I have so many things to watch and catch up on, but I'm currently working on catching up with Arrow and The Blacklist, followed by How to Get Away with Murder. For movies, though, I REALLY want to watch "Belle" this week. It looks so beautiful and well-done, and of course, super romantic. (Not sure why I'm all into the romance lately, but it is very restorative!)
What I'm researching / developing: I don't have anything planned, but I trust the ether to inspire me as needed. 🙂
What I'm learning: I'm doing a really personal and uplifting spiritual journey course that I'm actually going to stay mum on this time around. Some things are just too close to the heart to reveal, so I'm selfishly (and deliciously) keeping my thoughts on this class to myself. All I'll say is that it is really helping me to reconnect with my identity as a woman and human being, separate and apart from myself as a mother. Often, we moms don't take time to honor, appreciate, and pamper ourselves, and that negligence will drain our souls if it continues. So I'm taking the time to rectify that this week!
So how about you? How'd you do this week re: your goals, aspirations, or just plain ole self-care? Did you celebrate any successes or manifest any gratitudes? Hit any milestones or writing goals? Leave your comments and thoughts below!
Writing on, rocking on, and forever journeying towards creative badassery,
<3 Colby